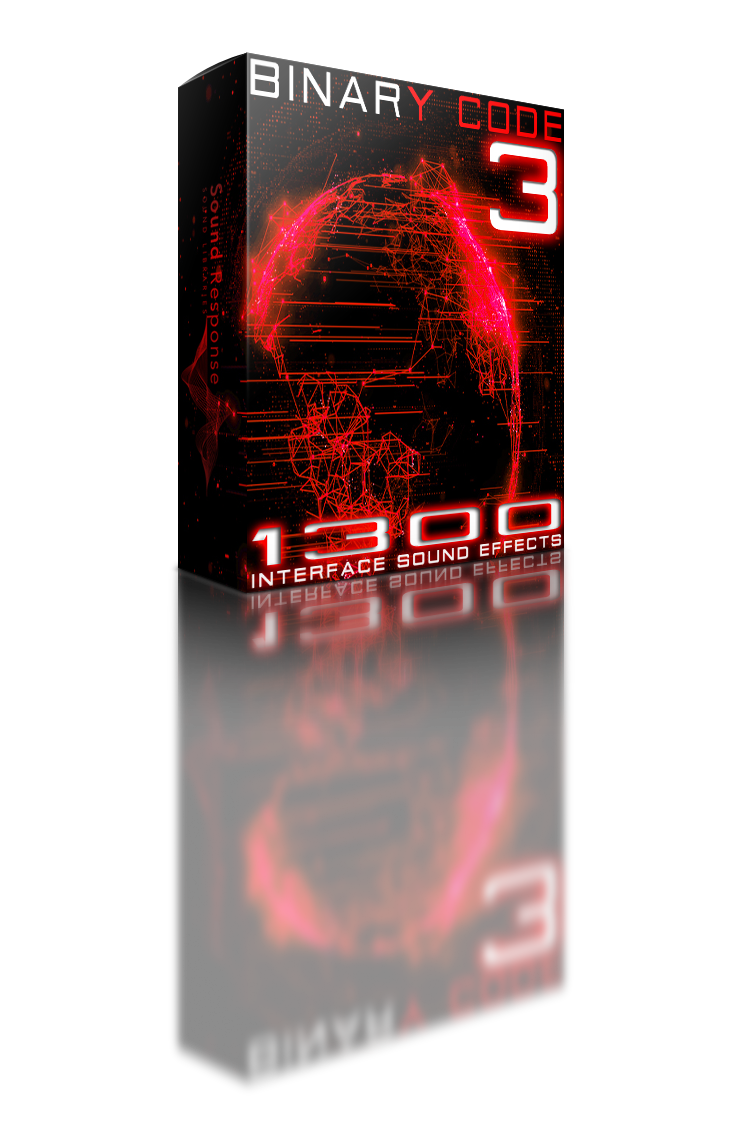 Binary Code 3 – Interface Multiverse
Binary Code is officially a TRILOGY! What first started with Binary Code and then continued evolving with the second installment Binary Code 2 has now reached new heights with the biggest (2.32GB in size) and the most versatile (10 categories of UI sound effects) interface sound library from Sound Response to this date – Binary Code 3 – Interface Multiverse!
Binary Code 3 – Interface Multiverse features 1300 brand new, high quality interface sound effects ready to bring that sophisticated, hi-tech, interactive feel and a futuristic sonic touch to your production! With ten different categories of HUD & UI sound effects and over hundred sound effects in each of the categories Binary Code 3 sound library is one of the most massive and diverse interface sound libraries you can find that features vast variety of neutral beeps, bleeps & button UI sound effects, confirmed (access granted) & denied (access denied) sounds, typing sound effects, wide range of different data processing sounds & readouts, glitches, various types of subtle transitions & sophisticated futuristic hologram sounds, as well as those iconic retro-sounding 8-bit sound effects, so you can be sure that with Binary Code 3 at your disposal you'll be equipped with professionally designed, cutting edge user interface SFX arsenal for years to come!
With the creation process spanning over the course of three months Binary Code 3 sound library took the longest time to make of all Sound Response sound libraries. Content of this soundpack is the result of extensive sound synthesis and experimentation with a range of different synthesizers and sound generators which yielded large amount of source sounds needed for further sound design stages and processing with different effects chains, which was then followed by meticulous editing and fine-tuning process of each sound effect in the final stages of the creation of this sound library. 
With Binary Code 3 – Interface Multiverse sound library you'll receive the number and variety of interface sound effects of highest quality worth well above its price, but you can get it for the same price as the first two installments as a way to express our gratitude for all the support and positive feedback after the release of Binary Code and Binary Code 2 sound libraries.
Binary Code 3 – Interface Multiverse sound library contains 1300 sound effects (2.32 GB) in high definition 24bit/96khz Stereo WAV format, embedded with metadata to speed up your workflow and separated into ten categories: 1.Neutral (Simple) 2.Neutral (Delayed) 3.Confirmed (Access Granted) 4.Denied (Access Denied) 5.Data Processing (Futuristic) 6.Data Processing (Retro) 7.Glitches 8.Subtle Transitions & Holograms 9.Typing 10.8-Bit Retro
Soundpack delivery: Download
For a multi-user license please contact us directly